Benford calls Kifowit's legionella comments "divisive and hateful"
Alyssia Benford
Alyssia Benford, a former republican candidate for State House District 98, said she views Rep. Stephanie Kifowit's (D-Aurora) House floor rant against Peter Breen as just the latest example of how low some lawmakers will go to make their voice heard on a given issue.
"I was disappointed to hear the comments made by Rep. Kifowit," Benford told the Will County Gazette.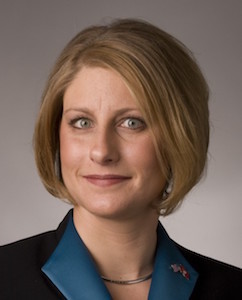 Rep. Stephanie Kifowit (D-Aurora)
Benford later added, "The comments were divisive and hateful and did nothing to address the matter being debated. We saw the same tactics during this past election cycle."
The latest fireworks stem from Breen taking issue with a bill that would raise the amount of eligible damages to up to $2 million for families impacted by a recent deadly Legionnaires outbreak at a state-run veterans' home in Quincy.
After Breen had spoken, Kifowit, a retired Marine veteran, responded, "To the representative from Lombard, I would like to make him a broth of legionella and pump it into the water system of his loved ones so that they can be infected, they can be mistreated, they can sit and suffer by getting aspirin instead of being properly treated and ultimately die. We are talking about talking our nation's heroes. We are talking World War II veterans that survived combat, survived war, survived unthinkable situations that they were put in to sit back put their faith and trust in the state of Illinois and have that completely, unabashedly disregarded."
The Chicago Tribune reported she later claimed her remarks were misinterpreted and mischaracterized.
What's clear to Benford, she said, is the time has come for holding "so-called leaders" and elected officials more accountable for their words and actions.
"When did it become OK to lie to voters or attack your colleague?" she asked. "Leaders should encourage unity, not death or divisiveness. They should work to solve problems and not lie and deflect to further a political agenda. The most important people during that discussion were the veterans and their families, and Rep. Kifowit's comments should have been directed towards a solution to ensure our veterans receive the best care possible."
Fourteen people died following the outbreak and nearly 70 others became ill.
Want to get notified whenever we write about
Alyssia Benford For State Rep
?
Next time we write about Alyssia Benford For State Rep, we'll email you a link to the story. You may edit your settings or unsubscribe at any time.
Sign-up for Alerts
Organizations in this Story
More News