Will County Animal Control officer Jones savors his roles as peacekeeper, protector, investigator
Bryan Jones appreciates the fact that his job gives him a sense of accomplishment and satisfaction each day he puts on his Will County Animal Control officer's uniform.
"Whether it's getting a bat out of someone's home, preventing the animal or the public from being injured, reuniting a lost pet with its owner, or even just listening to a concerned citizen," Jones told Will County Gazette. "Just knowing that I helped someone is an accomplishment for me."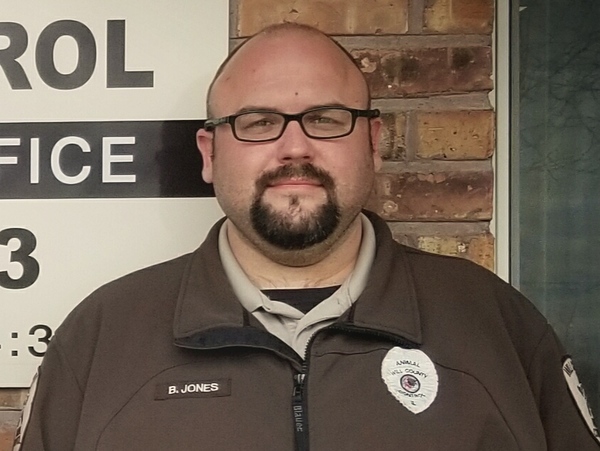 Will County Animal Control Officer Bryan Jones
Jones has been an animal control officer for Will County since 2015. Among his responsibilities are following up on animal bites for rabies control, responding to calls for dogs running at large, barking and disturbing the peace complaints, humane investigations and tending to sick or injured wildlife.
The most enjoyable part of his job, he said, is when a lost animal is reunited with its owner.
"We use various veterinary facilities throughout Will County to house our strays, and our Animal Placement Coordinator makes any and all attempts to reunite the pet with its rightful owner," Jones said. "We make sure to do all we can as an agency to keep the animals as comfortable as possible while an owner is being located."
One of Jones' professional goals is to try to change the public's perception of what an animal control officer is and does.
"I want the public to not be afraid to contact us when there is an animal issue needing attention," he said. "Sometimes, the public is afraid to contact us out of fear that something bad is going to happen to the animal. When this occurs, either nothing gets done, or there is a delay which causes the animal to suffer longer than necessary."
Jones also hopes to improve the industry as a whole by interacting with other animal control officers to come up with new and improved ways to handle the various situations they encounter on a daily basis. He would like to see more programs to better inform the public on the humane care of animals, and the correct and lawful ways to co-exist with them.
"It would be great if it could be part of the curriculum taught in schools and would allow children to start learning, at a young age, responsible pet ownership and the humane treatment of all animals," Jones said.
Jones was born and raised in Joliet, and currently resides in the Cathedral area on the near west side of the city. After graduating from Joliet Central High School, Jones worked at Joliet Township Animal Control as a kennel attendant. Within two years he was promoted to an animal control officer, a position he held for nearly 13 years.
Outside of his work, Jones enjoys spending time with his family and friends, going on small trips, and continuing the restoration of his 100-year-old home.
Want to get notified whenever we write about
Will County Animal Control
?
Next time we write about Will County Animal Control, we'll email you a link to the story. You may edit your settings or unsubscribe at any time.
Sign-up for Alerts
Organizations in this Story
More News