With Durkin looking like a winner, Straub still holding out for a miracle in GOP primary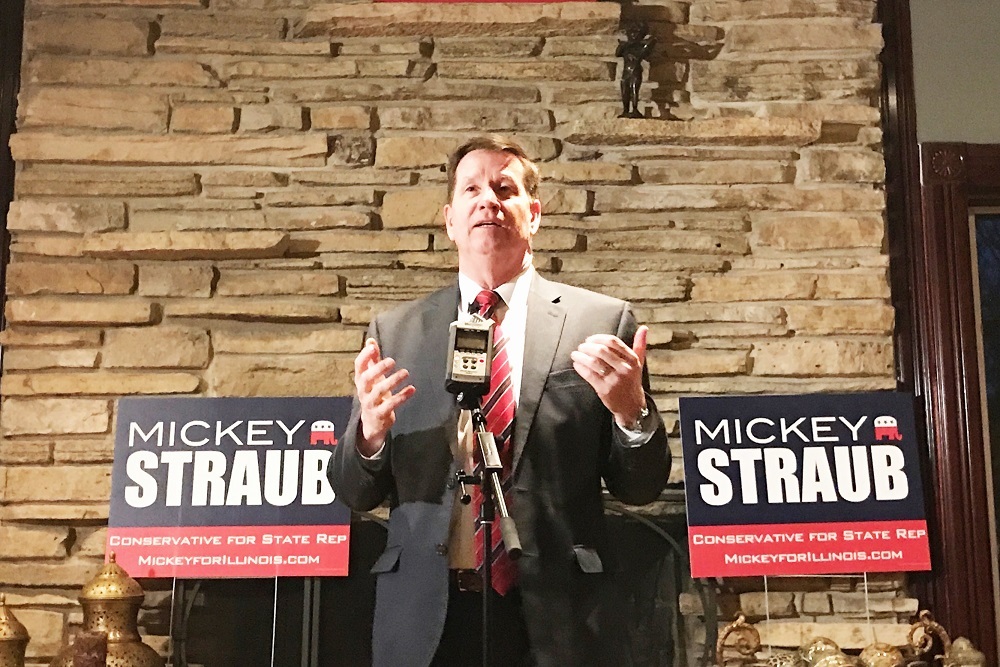 Mickey Straub
Mickey Straub said he believes in miracles.
Speaking to the Will County Gazette while waiting for the final results in the GOP primary, the Burr Ridge Mayor, who is seeking the 82nd District seat against incumbent Rep. Jim Durkin (R-Western Springs), said Durkin's 68.73 percent of the votes to his 32.27 percent is not a shock.
Illinois State House Minority Leader Jim Durkin (R-Western Springs)
"I am not at all surprised that the numbers are trending his way," Straub said. "In Cook County, he has dominated in two-thirds of the vote."
However, Straub said it's not over until it's over, noting DuPage County has to be counted by hand before his final defeat his set in stone.
"Even when I ran for mayor, I think I lost Cook County, but I won DuPage," Straub said.
In late December 2017, Straub told the Will County Gazette, if elected "he would be intent on finding a way of returning Illinois to the days of being a 'destination state' by rescuing it from the clutches of House Speaker Mike Madigan (D-Chicago)," according to the news report.
"Madigan is driving Illinois right off a cliff," Straub added. "And Springfield, as constituted, doesn't have the wherewithal to change things or stand up to him."
Speaking Madigan, Jeffery Leef alleged a deep Durkin-Madigan connection, also in a December 2017 West Cook News Report.
"If you then look at career politicians in Illinois, like Rep. Durkin, they are in office because Michael Madigan has allowed them to do so," Leef said in the news report. "If they have been given the blessing of Speaker Madigan, then they are likely either literally or figuratively on his payroll."
Straub made it clear on primary night that he still believes strongly in his campaign just as he did in January when he demanded Durkin "halt mailing a flier that contains false and misleading information about the village's fiscal health and the competency of its governing officials," according to a January 10 West Cook News Report.
Three hours after the polls closed on Tuesday night, Durkin had4,257 votes and Straub had 1,937, but still.
"It might be a big hill to climb and something close to a miracle, but miracles have happened, and underdogs have won," Straub said.
Want to get notified whenever we write about any of these organizations ?
Next time we write about any of these organizations, we'll email you a link to the story. You may edit your settings or unsubscribe at any time.
Sign-up for Alerts
Organizations in this Story
Citizens for Mickey Straub • Illinois Representative Jim Durkin (R-82nd)
More News