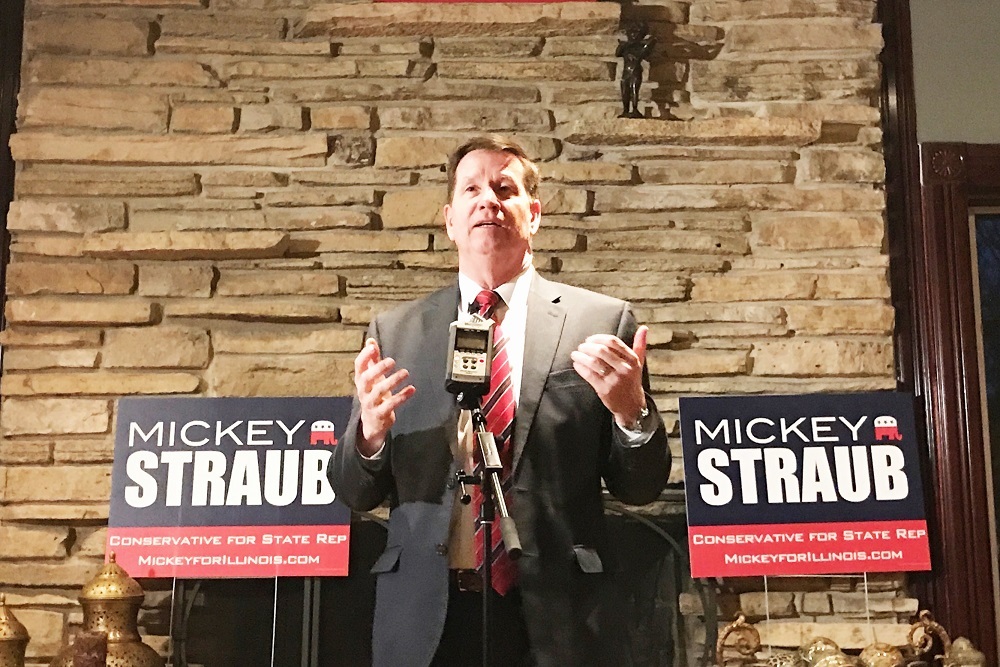 Mickey Straub hopes the sexual harassment scandal now rocking House Speaker Mike Madigan's office is enough to finally move voters to action.
"For decades politicians in both parties have quietly colluded to protect their own power and the Springfield culture at our expense," Straub, the Burr Ridge Republican running for the seat held by House Minority Leader Jim Durkin (R-Western Springs) in the 82nd District, told the Will County Gazette. "I call on Mike Madigan to resign and ask my opponent to stand with me."
The latest Madigan (D-Chicago) scandal involves former political staffer Alaina Hampton recently stepping forward to allege harassment at the hands of longtime Madigan operative Kevin Quinn, her direct supervisor and the brother of Chicago alderman and fellow Madigan ally Marty Quinn.
Hampton further alleges that her compliant was ignored by Madigan and other high-powered members of his organization.
"This behavior should not be tolerated in either party," Straub added. "That is why we need fresh, independent representation in Springfield."
Straub said all of the blame for the way things have deteriorated in Springfield doesn't just fall on Madigan's shoulders.
"Jim Durkin has worked with Madigan for nearly 20 years," he said. "Durkin's actions align with his statement in The Western Springs Journal (August 2016) when he said, 'I agree with Madigan more than I disagree with him.' Durkin has proven he won't hold Madigan accountable."
According to the Chicago Tribune, Hampton alleges her issues with Kevin Quinn date back to 2016, when he started sending her inappropriate text messages and asking her out on dates.
She said in February 2017, she formally filed a complaint with Marty Quinn, one of Madigan's top lieutenants.
By April of that year, Hampton had walked away from her job altogether after coming to believe her persistent complaints were largely being ignored.
She said she thinks there was a cover up because she sent a letter to Madigan's home in late 2017, but again no action was taken against Kevin Quinn until a day after she went public with her story.
Hampton has also filed a complaint with the Equal Employment Opportunity Commission, and she and her attorneys now plan to file suit against the Illinois Democratic Party and Friends of Mike Madigan.
"I'd compare it to the Wild-Wild West, but I wouldn't want to insult the West," Straub said, adding that Madigan took months before finally taking action against Kevin Quinn when details about the situation were leaked to the media.
The ruckus in Madigan's office comes as legislative leaders in Springfield grapple with the fallout of the office of the legislative inspector general having gone unfilled for roughly three years. The inspector general is responsible for investigating all ethics complaints, including allegations of sexual harassment.
During the time the position went unfilled, at least 27 complaints alleging harassment were filed, including one against Sen. Ira Silverstein (D-Chicago), who has since been found to have engaged in behavior "unbecoming a legislator" in his dealings with local activist Denise Rotheimer.
As a growing number of Democrats and Republicans now call for Madigan's ouster, Straub said Durkin's silence again seems deafening.
"Where was Jim Durkin while the legislative inspector general's office sat empty?" he said. "Where has Durkin been for 10 terms and 20 years? Where is Jim Durkin now?"