Will County Ad-Hoc IT Assessment Committee met April 4.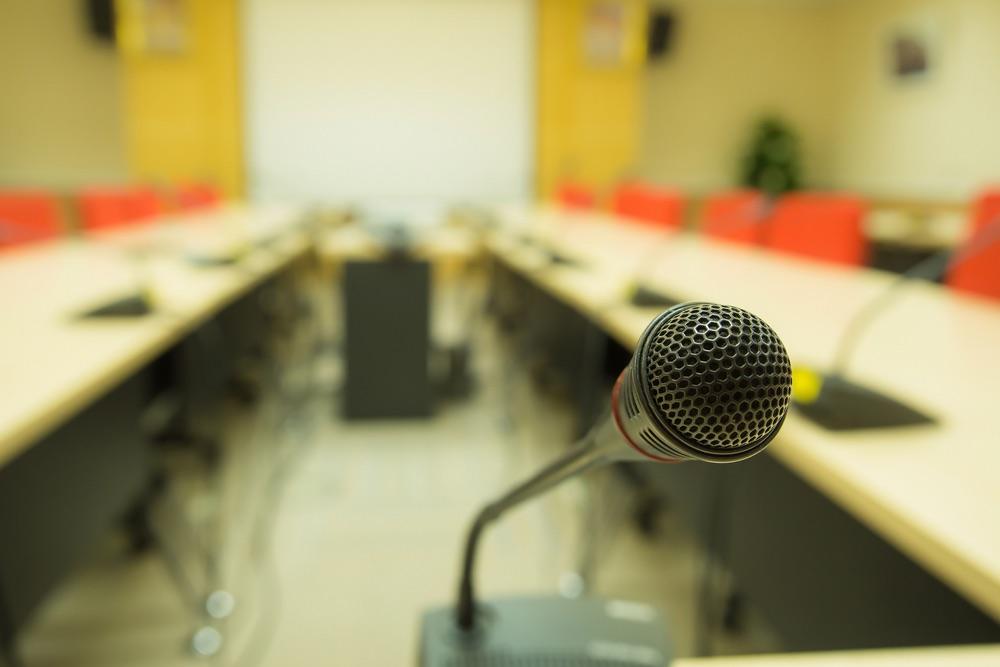 Will County Ad-Hoc IT Assessment Committee met April 4.
Here is the minutes provided by the Committee:
I. Call To Order/Roll Call
Chair Judy Ogalla called the meeting to order at 10:10 am
Attendee Name; Title; Status; Arrived:
Judy Ogalla Chair Present
Lauren Staley-Ferry Vice-Chair Present
Steve Balich Member Present
Charles E. Maher Member Absent
Ray Tuminello Member Absent
Also Present: H. Brooks, M. Johannsen, R. Freitag
II. Pledge Of Allegiance To The Flag
Mr. Balich let the Pledge of Allegiance to the Flag.
III. Approval Of Minutes
1. WC Ad-Hoc IT Assessment Committee - Regular Meeting - Oct 17, 2017 11:00 AM
Result: Approved [Unanimous]
Mover: Steve Balich, Member
Seconder: Lauren Staley-Ferry, Vice-Chair
Ayes: Ogalla, Staley-Ferry, Balich
Absent: Maher, Tuminello
IV. Old Business
V. New Business
1. Update on Risk Assessment Questionnaire
(Tim Costigan)
Will County Auditor Duffy Blackburn and Mr. Costigan reviewed the handout (see attached) their goal is to get an assessment of IT goals, IT resources and IT budgets. Two years ago it was discussed with Director Mike Shay that they would do IT General Controls Audit for review. IT General Controls is how much your employees are aware of tools and resources keeping secure online and everything down to networks. What the most important thing about this audit is the scope, what are we actually looking at. As far as Auditor why they are doing this, they are helping within their maintain/continuous internal audit, to help the departments achieve their goals, their risks, their data and their networks. Two major things they identified within their scope at the beginning was a maturity model that takes in account how aware our departments are of internal controls for IT systems such as information systems, information technology, where their servers are, password management, authentication and access controls. We identified that the maturity can start off with informal ad-hoc controls and policies, then hopefully in years time show a fully optimized controlled environment then we have full inventory of data, all of the data is classified, all the software is inventoried, all of the devices inventoried and then that information is able to be communicated. That is not the responsibility of the Auditor's Office but it is the responsibility of the centralized IT Department and the different IT departments out there. So we're just beginning the process of asking these questions. Our goal here is incremental continuous improvement.
Ms. Ogalla stated this audit works great with us. This has been a very good way of sharing information, working together to keep things moving along and make sure users are aware of a lot of things. Mr. Blackburn does training, and training on cyber security, things our committee couldn't do. This is a nice composite of information.
Mr. Balich stated that we have a lot of different computer sites going on at a time. What do you do to stop hacking and protect the systems?
Mr. Blackburn responded that the IT Director Mr. Shay could address some of the software for the actual security.
Ms. Ogalla stated that is why Mr. Blackburn had training classes to make different users aware of cyber security. The IT manager has their own set of things to block hackers.
Mr. Shay stated we were hit big just before tax time, but what they don't know is none of the transactions are handled here. The money never arrives here, but the hackers don't realize that.
Mr. Balich would like to know if we have our own system developed by our person as opposed to going out on the market and shopping for security systems.
Mr. Shay responded that we do not have our own coders to construct our own security. He is confident in our security, we have 5 types of security.
Mr. Blackburn stated that he, Ms. Ogalla and Mr. Costigan discussed and decided to go forward with cyber security awareness training. The attacks keep coming newer, faster and different. In 2014, my office became a local partner to this campaign call Stop, Think, Connect, which is through the Department of Homeland Security, which tries to get everyone, young Americans, older Americans, students, governments to be aware that it is all of our responsibility.
Mr. Brooks asked Mr. Blackburn if while they were going around to all of the different departments, are these departments of Will County independently doing this work or is it under your umbrella or supervision.
Mr. Blackburn stated they are not trying to give another work load to ICT, so they are trying to get through this. The timeline is within each division or department.
Ms. Ogalla responded that this is an informal meeting they set up after they send out a questionnaire to get basic information, from that they can learn and look into other things. They work with various IT personnel in the departments. This is working very well.
Handout from Will County Auditor at Committee (Handout)
2. Discussion on Data Cleansing
(Mike Shay)
Mr. Shay stated the Enterprise Resource Plan (ERP) is our finance and our HR, all of our administrative systems. This is one of the few systems that absolutely operates countywide. It's all of our County elected officials, all of our agencies and anyone that is connected to us, it's a unified system. The last time they purchased one was in 1991, put it up in operation in the early 90's, never fully utilized it and it has aged poorly and now that system has to be replaced. Most of the systems are intended to last 5-10 years, we are going on 25 next year. One of the biggest problems in ERP is data conversion. There are a number of questions you have to ask, what do you want to convert, what do you need to convert and how much of that data do you need. The original contract from New World does not appear to compel them to give us the new data dictionary from our vendor, what that means is we have to figure it out on our own. We have already started that process of considering and defining that data. The vendor selection process is important, they will tell us what we need to operate within their system. Eventually that will let us compare them side by side. When you get to CMS, case management for State's Attorney and Public Defender, they have a whole bunch of small things. There are two primary pieces to the software, there are applications/programs, what those programs draw from are basically huge excel spreadsheets. We are worried about the rows and columns, that is the information that we need to make the new systems work. He is not concerned about the old code, what he cares about is getting accurate and understood information out of the old system and properly placing it in the new system. We have to make sure what we put in the old system comes out in the new system and matches. He is confident they will get there, it won't be easy but can be done.
Mr. Blackburn also stated in the data cleansing process they will have to make sure that when they go into the new program, that program will accept those names and numbers into their table of names and numbers.
Ms. Ogalla stated it is a process of taking the data from the old system, running it through a conversion program then input it into the new system.
3. Update of ERP Demos
(Judy Ogalla)
Mr. Shay stated they originally had 9 qualified vendors. Those vendors prices range from $671,000 to $13.3 million. The selection committee reviewed all of them, and narrowed it down to 3 vendors. The 3 vendors were HSO which bid Dynamics 365, Superion which bid their previously named Sunguard system, and Quintel which bid their SAP system. They all 3 have advantages, they all have disadvantages, we reviewed those through the demo process. Each one of the vendors got two full days with the selection committee. After each demo session, the selection committee scored the vendor, we had different people scoring different things. This afternoon we will be meeting and adding up those scores, going through the references and put them in to see who gets the top score.
Mr. Blackburn added a large concern beyond the functionality and the technical support, a large focus was given to user experience, training, change management through the departments, how the users were going to accept the new software. The vendors were really put to the paces making sure our users were actually going to be able to use it.
Mr. Shay stated Quintel and Superion were probably the closest to what we have now, it was very comfortable and understandable. Microsoft Dynamics 365 with HSO was not the easiest to look at but had a whole bunch of add-on's that were pretty exceptional. Their new cloud base service has an app store, anything you purchase is fully integrated off the shelf, they have thousands of apps in there that they certify. The selection process went very well, we had a lot of qualified bidders.
Ms. Ogalla pointed out we will have better information faster.
Mr. Shay stated the goal is to make things as transparent as possible.
Handout from Mike Shay at Committee-
(Handout)
4. CMS Update
(Mike Shay)
Mr. Shay stated there is a process with CMS, Case Management System, they are through the pre-bid conference and the bid is on the street. We had 8 pre-bid attendees, which means we have 8 potential bidders. (see attached handout for list) Features, timing and cost are important but they are all qualified. They are getting a lot of questions, those are handled by submitting the questions to Ms. Weiss in purchasing, she strips vendor information from it so we just get raw questions from her then we respond to them. The last date to receive those questions is May 2nd and bid opening is May 16th. Committee selection will be mid-June, then they will do two day demos. (See attached handout for timeline) They are hoping to make a recommendation to the Board in September.
Mr. Blackburn asked if this was a similar process as ERP.
Mr. Shay responded it is similar in some ways, but in this case instead of assembling a selection committee, we had one built in. The Integrated Justice Committee which is made up of the Board and all of the Judicial Officials, chaired by the Executive. They have been meeting for 5 or 6 years, and they have kicked off a number of processes. At one point they hired a company called URL to do a full BPR (Business Process Review) on the Judicial system. They mapped out every single process. Then they came up with a series of recommendations. Things that the County needed to address, a number of those have been addressed. So now we are working on the next recommendation in Integrated Justice, this is the one with the biggest gain, the Public Defender needs a better system and the State's Attorney needs a system. So, Integrated Justice acts as the selection committee.
Ms. Ogalla stated one thing in government is IT always lags behind, because no one sees it. All of the processes will be improved so there should be less errors all around and those doing the work will have all of the information they need right now.
Mr. Blackburn stated it is important to note about system development and life cycles of these systems, the significance of them and how they are qualitatively different than any other capital purchase or implementation process that is helps so much to have a centralized group of people to be discussing these implementation projects.
Ms. Staley-Ferry stated the process has been good and would like to know when the upcoming meetings are to possibly attend.
VI. Other New Business
VII. Public Comment
VIII. Chairman's Report/Announcements
IX. Executive Session
X. Adjournment
1. Motion to Adjourn at 11:05 am
Result: Approved [Unanimous]
Mover: Steve Balich, Member
Seconder: Lauren Staley-Ferry, Vice-Chair
Ayes: Ogalla, Staley-Ferry, Balich
Absent: Maher, Tuminello
XI. Next Meeting-May 2, 2018
https://willcountyil.iqm2.com/Citizens/FileOpen.aspx?Type=15&ID=2961&Inline=True
Want to get notified whenever we write about
Will County
?
Next time we write about Will County, we'll email you a link to the story. You may edit your settings or unsubscribe at any time.
Sign-up for Alerts
Organizations in this Story
More News