Aurora City Council considers computer purchases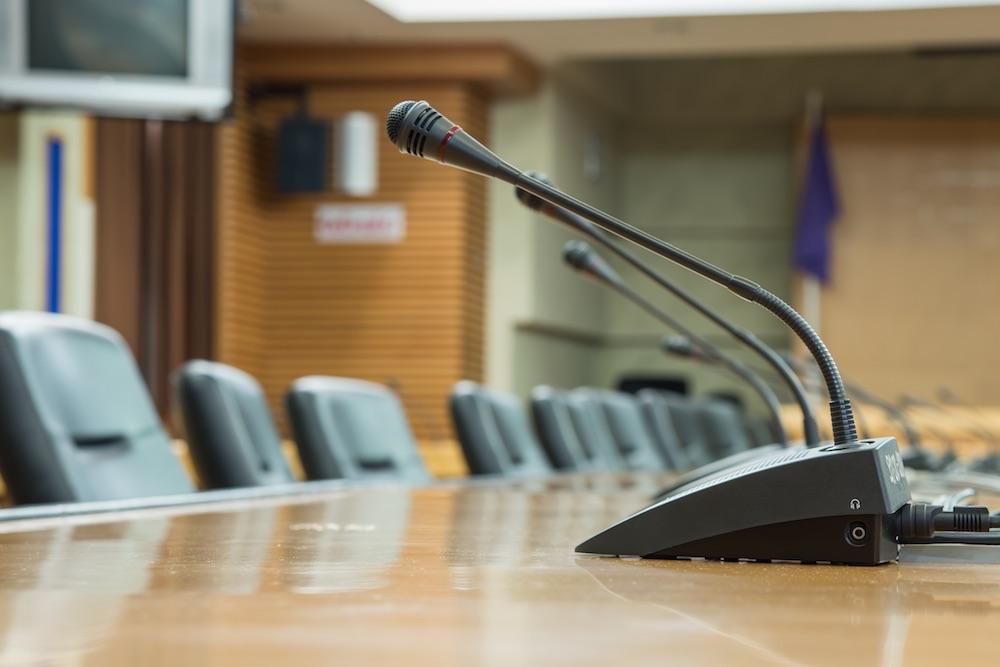 Aurora City Council met Tuesday, June 28.
The city council includes the mayor and 12 aldermen. One alderman is elected from each of the city's 10 wards and two others are elected at large from within the city.
Here is the agenda as provided by Aurora:
City of Aurora City Hall - 2nd Floor Council
Chambers
44 East Downer Place
Aurora, IL
City Council
Agenda - Final
Tuesday
June 28, 2016
6:00 PM
ROLL CALL
PLEDGE OF ALLEGIANCE
INVOCATION
MINUTES OF THE MEETING OF TUESDAY, JUNE 14, 2016
16-00579 Approval of the Tuesday, June 14, 2016 City Council Meeting Minutes
APPOINTMENT OF SERGEANT-AT-ARMS
PRESENTATION
16-00230 Recognition of the 4th of July Grand Marshal.
MAYORAL APPOINTMENTS
16-00483 A Resolution Appointing Yvonne Owusu-Safo as an At-Large Representative of the Aurora Planning Commission.
16-00520 A Resolution Appointing Sandeep Londhe and Reappointing Roopa Anjanappa, Deepak Mehta, Anupama Setty, Gautam Bhatia, Ashok Easwaran, Girish Kapur and Niveditta Ahuja to the Indian American Community Outreach Advisory Board.
16-00541 A Resolution Appointing Chief Gary Krienitz to the Aurora Electrical Commission.
CONSENT AGENDA
16-00377 A Resolution Authorizing the Renewal of the Neighborhood Revitalization Strategy Area (NRSA) Strategy as identified in the City of Aurora's 2015-2019 Community Development Block Grant Consolidated Plan for the 2016 CDBG Program Year and Establishing Efforts to Pursue an Amendment to the NRSA Strategy.
16-00435 A Resolution Accepting the Dedication of a Stormwater Easement at 1535 Reckinger Road
16-00444 A Resolution to purchase two new trucks from the Illinois Department of Central Management Services Master Contract for the Streets and Parks & Recreation Maintenance Divisions.
16-00448 An Ordinance Amending Chapter 6 of the City of Aurora Code of Ordinances Entitled "Alcoholic Liquor".
16-00450 A Resolution establishing the maximum number of Class O City of Aurora liquor licenses (unofficially related to application from: Hills Banquet Hall LLC. d/b/a Hills Banquet Hall, located at 649 Hill Avenue, Aurora, Illinois.).
16-00452 A Resolution establishing the maximum number of Class P City of Aurora liquor licenses (unofficially related to application from: Coffee House holdings. d/b/a Starbucks #10825, located at 2948 Kirk Road, Aurora, Illinois.).
16-00460 A Resolution Authorizing the Mayor to Execute an Engineering Agreement Between the City of Aurora and V3 Companies for Phase I Engineering Services for Eola Road Extension to US Rte. 30.
16-00464 A Resolution Authorizing a Memorandum of Understanding or MOU with the Kane County Sheriff's Department for the Installation of Communication Equipment on the Tower Located at the Aurora Police Department, 1200 E. Indian Trail.
16-00470 A Resolution establishing the maximum number of Class G-1 City of Aurora liquor licenses (unofficially related to application from: Suma Inc. d/b/a 7-Eleven #32202F, located at 1202 N. Eola Road, Aurora, Illinois.).
16-00471 A Resolution Establishing the Maximum Number of Class F City of Aurora liquor licenses (unofficially related to application from: Dweeti Inc., doing business as Rosati's Pizza, 2990 Ogden Avenue, Aurora, IL 60506.)
16-00477 A Resolution Authorizing a Roadway Construction and Financing Agreement with Five H, LLC for the Extension of Eola Road to U.S. Rte. 30.
16-00489 A Resolution Accepting the Dedication of an Easement at 2810 Duke Parkway, being Lot 2A Unit 1of Butterfield East Resubdivision of Lot 2 Subdivision located at west of Duke Parkway north of Ferry Road
16-00490 An Ordinance Vacating a City Easement on the Property located at 2810 Duke Parkway in DuPage County, Aurora Illinois 60502
16-00501 A Resolution approving the purchase of up to 300 Dell personal computers and workstations through CDW-Government of Vernon Hills, Illlinois, through the date of December 31, 2018.
16-00502 A Resolution authorizing the purchase of fourteen Panasonic Toughpad computers off of State of Illinois Master Contract #CMS5848520 from CDS Office Technologies in the amount of $50,792.00.
16-00506 A Resolution approving the purchase of an extended warranty from Dell Inc. for Storage Area Network (SAN) in the amount of $55,167.98 for the MIS Division.
16-00507 A Resolution for Reduction No. 1 of the Developer's Security for Aurora Memory Care - 1340 N. River St.
16-00508 An Ordinance of the City of Aurora, Illinois, Ascertaining the Prevailing Wage Rate of Wages for Laborers, Mechanics, and other Workers Employed in Public Works Projects.
16-00518 A Resolution for accepting the improvements and maintenance security for La Chicanita Ice Cream Shop - 302 Jackson St.
16-00524 A Resolution to award a contract to Superior Excavating Co. of P.O. Box 575, Channahon, IL 60410 for the Mitchell Road, Rosewood Avenue, & South Broadway Avenue Sanitary Sewer Repairs in the amount of two hundred seventy-nine thousand, seven hundred seventy-nine dollars and fifty cents ($279,779.50).
16-00526 A Resolution to accept the Proposals received for the 2016-2017 Water & Sewer Division Emergency Repair Program.
16-00529 A Resolution Authorizing Renewal of The Auto Group Lease Amendment #8
16-00530 A Resolution awarding the Roundabout Intersection Improvements for Highland Avenue and Sullivan Road construction to the low bidder in the amount of $526,348.68, Geneva Construction Co.
16-00534 A Resolution authorizing payment of the 2016 FX and SUMS software maintenance agreement with the Harris Corporation Lynchburg, VA in the amount of $50,000.00.
16-00535 A Resolution Authorizing the Purchase of Bulk Rock Salt in the Amount of $56.35 Per Ton for the 2016-2017 Season
16-00548 A Resolution to approve the proposal for Municipal Website Design Services from Icon Enterprises d/b/a Civic Plus, Manhattan, Kansas, in the amount of $44,186 per year for three years which includes hosting and maintenance
16-00550 A Resolution to extend the contract with VisionFriendly.com, Naperville, Illinois for website services through January 2017 in the Total Amount of $35,000
UNFINISHED BUSINESS
15-01141 An Ordinance Authorizing an Annexation Agreement with the Owners of Record and Providing for PDD Planned Development District zoning for the territory located at the northwest corner of Sunrise Road and Meridian Road in DuPage County, Aurora Illinois
60563 (PUBLIC HEARING AT CITY COUNCIL)
16-00422 A Resolution Approving An Amendment to the Agreement with Seize the Future Development Foundation to Provide Funding for Economic Development Activities and Services
16-00426 A Resolution Approving First Amendment to Development Agreement with Jimi Allen Photography Inc., for 56-58-60 South LaSalle Street
16-00486 An Ordinance Providing for the Execution of an Annexation Agreement Revision for the Lincoln Prairie Planned Development with the Owners of Record of Territory located south of Wolf's Crossing Road, east of Route 30 and north of 111th Street in Will County, Aurora, Illinois
60503 (PUBLIC HEARING AT CITY COUNCIL)
16-00521 A Resolution Adopting new Section 8.4 "Murals" to the FoxWalk Overlay District Design Guidelines, Regulations, and Procedures, as an Appendix to the Aurora Zoning Ordinance
16-00547 A Resolution Approving a Memorandum of Understanding Between the City of Aurora and The Community Builders Inc. for the Redevelopment of the properties Located at 5 East Galena Boulevard, 14-20 South Stolp Avenue, and 32 South Broadway.
16-00561 A Resolution of a License Agreement for Temporary Use of Public Property Relative to an Outdoor Seating Area and as Part of a Temporary Liquor License Extension for Ballydoyle Aurora, LLC.
BILLS
16-00608 Bill Summary and Large Bill List
SPEAKERS
CLOSED SESSION
ADJOURN
Want to get notified whenever we write about
Will County
?
Next time we write about Will County, we'll email you a link to the story. You may edit your settings or unsubscribe at any time.
Sign-up for Alerts
Organizations in this Story
302 N Chicago St
Joliet, IL - 60432-4078
More News